This post is a ponder about what a garden can be – for us, and for the other inhabitants of planet Earth that live in the area. This is a big and sometimes controversial subject, so please take this writing as exploration rather than answers. All discussion that opens up the area further is welcome.
The word 'garden' originally meant 'enclosure' and shares its origin with 'yard', 'orchard' and 'garth', among other words. The first recorded garden is probably the Garden of Eden, which from the description in the book of Genesis was just that: an enclosed space. Into such an enclosed space selected plants (and sometimes animals) were brought, maybe from the local area, maybe further afield. It puts me in mind of the images of Persian gardens one sees depicted in carpets and paintings.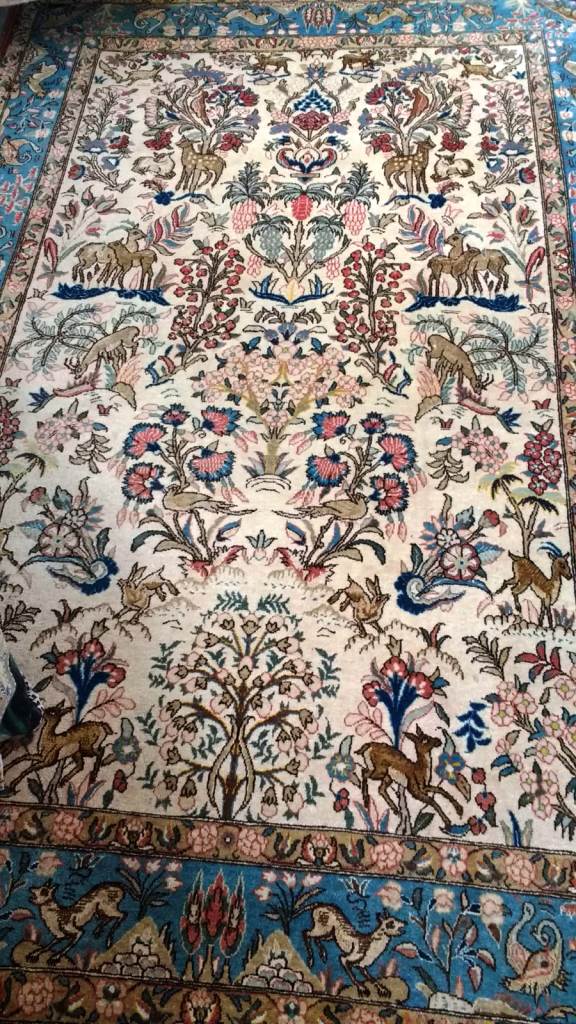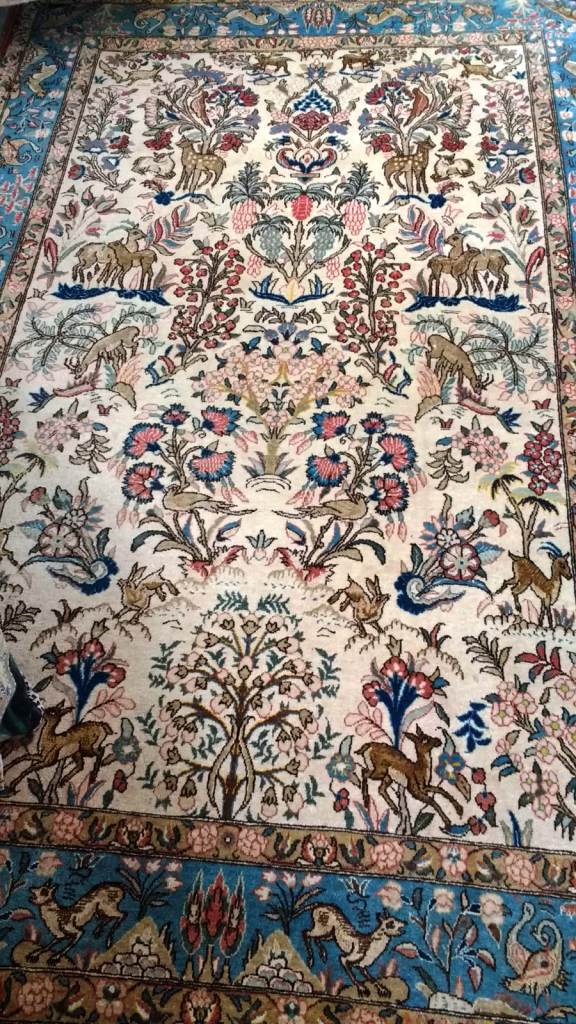 Lightly skipping over 3000+ years of human history, it is clear we are in a different world now. Those original gardens were for a select few, the elite, and now most people have gardens to be in and engage with, including you and me. Our gardens, private and public, take up a lot of space. There are few wild places left. This means that our gardens have a new job to do.
There may be some clues as to a way forward in the rewilding movement. In several crowded and not-so-crowded countries, large tracts of land have been allowed to revert. A famous instance in the UK is the Knepp estate in Sussex. 3500 acres of marginal farmland have gone back to scrubland, with fascinating consequences. Birds, bats and insects, not heard or seen for a generation or more have come back of their own accord. Interactions and intricacies of interdependence in the ecosystem have been understood. It is an inspiring story, not least because the land is still productive, but in a way which does not involve eradicating whatever is deemed not to fit.
What is possible depends on the size of the piece of land. On a larger scale than Knepp, at Yellowstone Park in the US, wolves were reintroduced a few years ago. The effects rippled down through the whole ecosystem. The wolves ate the elk, which soon learned to avoid areas where they would be vulnerable. Those areas regenerated, as the vegetation was able to grow back. The willow trees came back and with them the beavers. The beavers' dams provided more pools in the rivers: more space for the fish. And so the effects cascade through the system.
Can what has been learned in such large spaces be applied to our gardens? My suspicion is, yes in principle. One principle being that Mother Nature has a good track record of looking after her own affairs if we don't get in the way too much. There is no need to plant native trees on reclaimed land, for example, at least in the UK. Don't mow it for a few years and the trees will plant themselves. So, note to self: don't micro-manage.
Another principle for me is that I am custodian of the garden, not its owner. Other species: birds, rodents, rabbits and insects also have their part to play. Leave them to get on with it. Again, don't micro-manage. Leave the seed heads on the plants over the winter. Better than a birdfeeder!
Thirdly, my needs are valid too. I'll still cut the hedges, for two reasons. First, the large herbivores that would browse on their leaves haven't been around here for a long time. Our garden is not on the scale of Knepp or Yellowstone, so I will have to fill that gap, do the job those animals would do if they were here. The second reason for clipping the hedge is that I have my own notions of what is attractive. And a clipped hedge provides a great background for a small garden like ours. I'll do it when the birds aren't nesting in it, however.
So, because our world is so crowded, our gardens have become a valuable resource. This presents opportunities for new learning, new understandings of the delicate interactions that we have blithely blundered through for so long. I'm sure we'll all get on fine in the new regime.
However, there are some adjustments to be made.
For example, there is a big discussion going on in the rewilding world about whether to eradicate non-native species. This is a complete about-turn from the views of gardeners a century, or even a few decades ago. For Victorian gardeners, a garden was a showcase for exotic species. Our garden centres and seed catalogues offer us plants from all over the world, descendants of those brought back by plant-hunters from the 17th to the 19th centuries. Tulips and snowdrops from Turkey, peonies from China, fuchsias from South America: the list is endless. And as for vegetables: potatoes, runner beans and tomatoes from south America, carrots and onions from Asia .. clearly some perspective is needed here.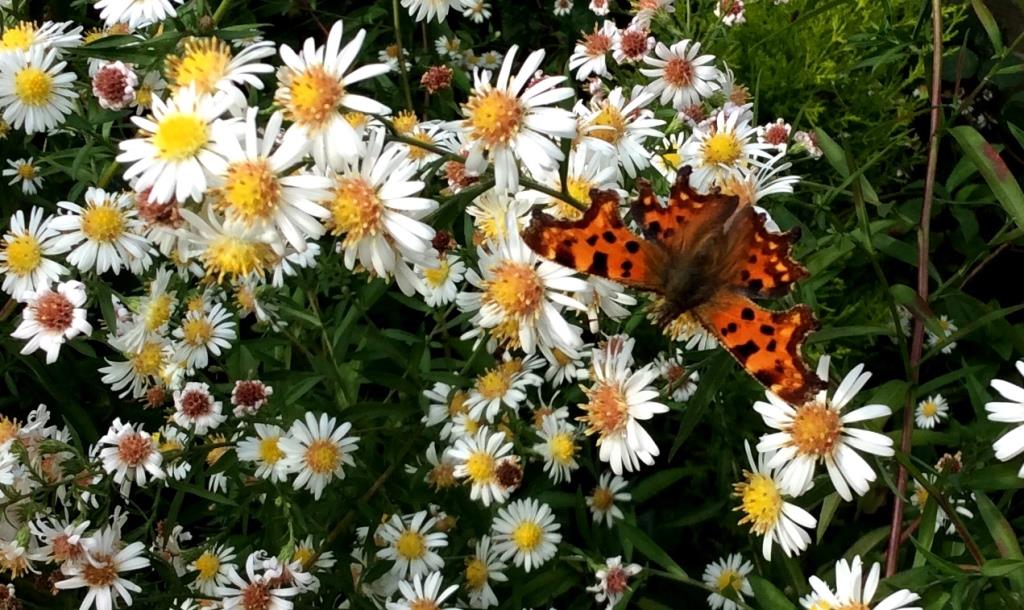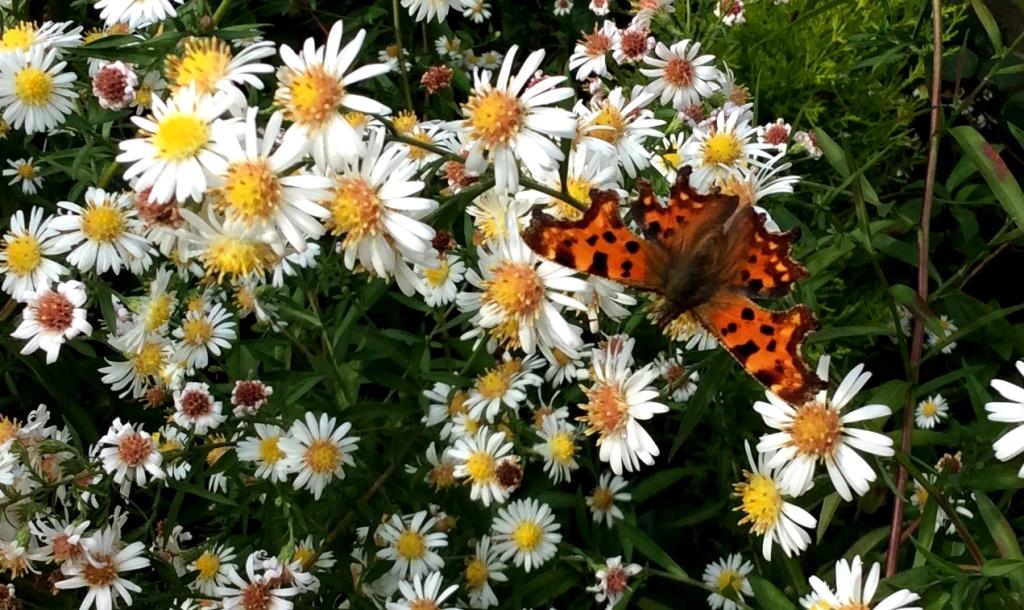 Here is a comma butterfly feeding on the aster flowering in our garden a few weeks ago, in October. Aster is native to North America – but I don't think the butterflies and the bees were concerned about that. So I won't worry about it either. I won't eradicate human-introduced species for the sake of it, because I have noticed that Nature is pretty robust and adaptable. Having said that, however, I'll think carefully before introducing anything from outside into the garden from now on. I'll try to check beforehand, in whatever way I can, with the non-human residents. I'll also set aside spaces for the vegetable beds, cut most of the lawn and pull back whatever gets in the way. I live here too, after all.
In the end, for me what counts is the love. Do I love this space, do I want it to thrive? What does it call for?
For more about garden-scale rewilding, here is Mary Reynolds' website: http://wearetheark.org/