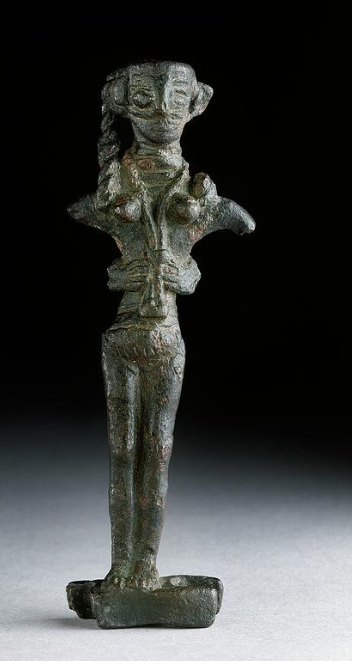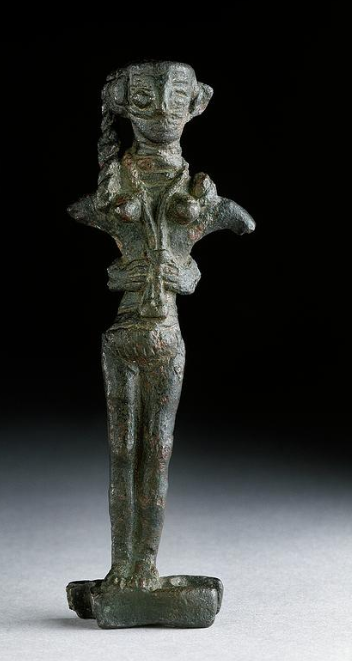 Yesterday we visited the Ashmolean Museum in Oxford. The Ancient Cyprus section was lovely – soft and gentle. I was drawn to a small figurine in a case in the corner. This is what it said to me.
"The men go into the ground, following the seams of green stone. With stone hammers they break up the seams to remove the lumps of rock. Sometimes they come across a nugget of pure copper: solidified strands of tangled pink metal. These they keep. They put the lumps of rock into baskets which they bring to the surface.
Back at the surface, the green stone is crushed and then heated over fires. The heat releases the liquid pink metal which is then poured into oxhide-shaped ingots. Oxhide-shaped in recognition of the time of Taurus, recently passed, when this activity began.
When the men have come out, it is the women's turn. I do not know if the figurine was made by a man or a woman, but it is the women who take it back into the chambers recently cleared by the men. The women come with value and respect for what has been given by the Earth. They give back something of their own making, in order to reset the balance. A bronze figurine, standing on an oxhide ingot, naked, not hidden, her hair braided, her neck adorned with a precious necklace. They place the figurine in a safe place where the green stone has been removed. They bring food and have a party, a feast. Because of their genuine value and gratitude for the gift from the Earth, the rift is healed. All parties benefit."
P.S. I have no idea if this is factually accurate. I am sure the humans living in Cyprus over 3000 years ago had their problems. However, I am also sure that living with the consequences of damage to the earth from industrialised extraction of minerals was not one of them. If they travelled to our time and saw the gaping holes that we have made in the ground, I have no doubt they would find such behaviour difficult to comprehend.