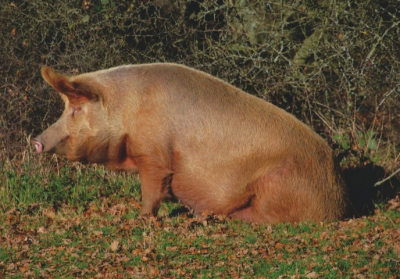 The newly-released Tamworth pigs, two abreast, "unzipped the turf down the public footpaths, following the exact routes on the Ordnance Survey map, heading diagonally across the fields. We realized that what they were doing, with the undeviating propulsion of slow-motion torpedoes, was zeroing in on all areas of the park that had never been ploughed – margins rich in invertebrates, rhizomes and flora. In the first few days of their release the pigs drew an accurate blueprint of what modern farming had done to our soil." ( page 110 of 'Wilding' by Isabella Tree, Picador 2018)
'Wilding' by Isabella Tree is an inspiring account of an experiment to return marginal land, ill-suited to intensive agriculture, back to the rhythms of nature. As well as leaving the land to regenerate, they reintroduced grazing, browsing and rootling animals – the last being some Tamworth pigs.
The man who inspired our tools, Viktor Schauberger, had a horror of what modern ploughing was doing to the land. At the time, he could not imagine cultivation without ploughing, so he searched for an alternative, less destructive material to make the plough, and came up with copper. Subsequent field trials bore him out. The crops were healthier in areas cultivated with the copper-plated plough.
Times have moved on, and we are rethinking our relationship with the land. We know that the use of chemicals has long-term unintended consequences. Organic growing is becoming mainstream; it is hard to remember how it was seen as eccentric and unrealistic a generation ago. No-dig gardening does not disturb the life of the soil. No-till farming is proving its value. Bronze garden tools, the inheritors of Viktor Schauberger's vision, share their sentiment of working with nature rather than against it.