Dear gardener

Welcome to our newsletter.

At Implementations, our experience of lockdown was a bit unusual. Our tools were never so popular as between April and July this year. We were working at full capacity. Which means we didn't have the time to write a spring newsletter. The coppersmiths struggled to keep up with the increased number of orders, but we are happy to say that the full range of tools is now back in stock.

We wanted to let you know that we are still here though, hence this newsletter. It is shorter than usual, with two sections. Part 1 has Jane's lockdown gardening ponders, and part 2 introduces a new addition to our range of gardening gear.

Lockdown gardening

So many things have changed in 2020. There have been tragedies and disruptions. There has also been a renewed sense of community and a surge of interest in gardening. The lockdown forced us to find a value for the place where we are. With the quieter skies and roads, the air was clear, the world was less noisy and the garden was a pleasant place to be.

It felt important to take advantage of this time, to confirm our connection with the place where we live.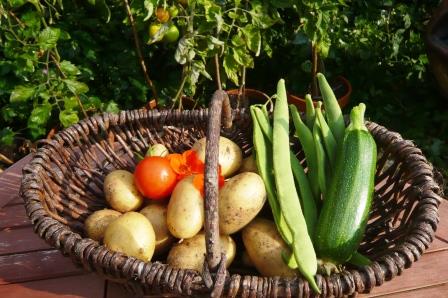 Part of our garden is given over to raised beds, where we grow vegetables. As happens every year, some crops have been abundant and others less so. Eating our own home-grown produce is, for me, another way to connect with the place. It's not just about the taste (which is so much better than anything from a shop) or economic considerations. It's about completing a loop. Our bodies are of the earth – and the earth expresses itself through its produce. By tending the garden and eating our home-grown runner beans, or potatoes or courgettes, I enter into a different kind of conversation with the garden, one that takes a cycle of seasons to complete an exchange. I'm not yet sure what it's saying, but I get an idea of when it's happy – or not. One of the things I think it says is, you look after me and I'll look after you. But that might be just my imagination.

Gardener's tunic

During the lockdown Anne, who designs and makes our garden gear, was busy too. She joined a group of volunteers to make gowns and other work clothing for NHS staff. Now she is back making garden gear, and we think her tunic combines style, comfort and practicality.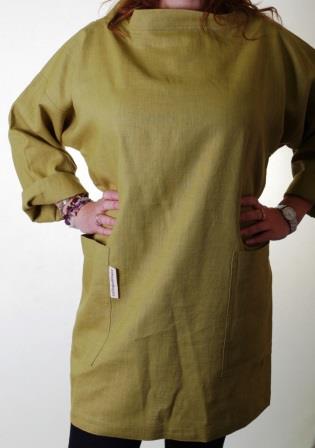 It is made of soft, machine-washable linen fabric. It has two capacious pockets. It is available in ten different colours.

And finally …

If you have comments or feedback we are usually by the phone from 8am to 4pm Monday to Friday.

We wish you happy gardening for the rest of the season.

Jane and Nigel