When someone is at high pressure, conversation with them is not easy. There is a certain glazed look in their eye, as they try to manage the intensity of what they are trying to express. And you can't get a word in edgeways. You open your mouth to reply – and they are off again. You just have to wait and sit out the onslaught. When children are excited and at high pressure, it is wonderful to witness. Plus, you know they won't maintain it for long. But adults – that is not so much fun. It can go on – and on.
It's like the weather. With high pressure weather systems the winds go one way – outwards from where the pressure is the most intense. When the high pressure system is over your area, there are the same conditions for days or weeks. If it's cloudy, it stays cloudy. If sunny, it stays that way too. But on the outer edges of the system it is a different story. There are winds and turbulence as the high pressure equalises itself out, dumping its excess on the surrounding area in the process.
Given that being on the receiving end of someone else's high pressure can be an endurance test, why do businesses inflict it on us? You know the sort of thing …
LAST FEW IN STOCK!!
or
HURRY! OFFER ENDS SOON!
It's usually associated with exclamation marks, capital letters and gaudy red or orange notices.
It's more subtle, but equally irritating, online. All those ads on Youtube or Spotify, whose main effect is to send me reaching for the 'mute' button. And the providers know the ads are irrritating, because they tell me that if I pay for their service, I won't be bothered by ads. What incentive is that for an advertiser? I promise you, here and now, you will never be interrupted by an ad from Implementations when you are watching a film or listening to a piece of music.
What is the alternative? Is there another way of interacting with potential customers? What is the low-pressure approach?
As I see it, the low-pressure approach has three stages. First, I have to let you (and anyone else who might be interested) know that we exist. When the business was new and young, we had to go high pressure to do this. We went to shows. We pestered journalists. Jane gave talks. We said the same things, over and over again. Nowadays, we don't have to be at such high pressure, so we have a Facebook page, and more recently, a Facebook group.
We run a small ad in some magazines, something like this.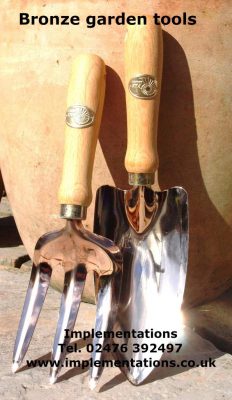 It says who we are and how to contact us. That's all.
That's the first part.
In the second stage, we have to make sure that the lines of communication are open, that nothing will prevent the people who want to engage with us from engaging with us. Does the website work smoothly? Make sure someone is there to answer the phone if it rings. If someone has a problem with delivery or anything else, get on to it. If we get it right, this part is rather like a swan gliding on a lake: serene and smooth above water and paddling furiously in the part that can't be seen, below the water.
The third stage looks simple but is actually more tricky – for us, anyway.
We wait. We go low-pressure.
We trust that there are people who love the concept of the tools as much as we do. To use the analogy of 'Field of Dreams', we've built it. Will anyone come?
The low-pressure approach has some hidden bonuses. I have some amazing conversations with customers, for example. I like them. I relate to them. We find we have common values. Interactions are a transaction, an exchange rather than a persuasion. A human-to-human affair.
So we will stay low pressure.