2020 was the year when everything changed.
It was the year in which the skies cleared. Hardly any contrails. Sunrises and sunsets were breathtakingly clear and beautiful.
We heard birdsong, louder than most of us could remember.
There was concern about an unknown enemy, an invisible virus that haunted our world.
During the first lockdown in the UK, many of us started to reassess what was important and what was less so.
If a person lived alone, they had no physical contact with another human being.
There were demonstrations of kindness, of local initiatives on a heartwarming scale.
There were stories of personal tragedy, of confrontation.
Maybe because we were prevented from going anywhere else, many of us began to value the place where we live, to see it with new eyes. There was a renewal of interest in gardening. And along with that interest, the tools we offer went above the radar for the first time.
…
In retrospect, we can see that our business ticked a couple of boxes. First, it is an online business – and 2020 was the year in which an awful lot of people embraced online shopping. Secondly, many people decided to take up gardening last year, whether as a way to be outside for the sake of their sanity, or to grow more of their own food, or for other reasons.
2020 was a challenging year in so many ways. The goalposts shifted for all of us. The challenge that we faced at Implementations was that we had never been so busy. We are a small venture, with just two people. With lockdown and space constraints we couldn't invite anyone else to work with us, so we had to get on with the increase in orders as best we could. We kept reminding ourselves that this was a good problem to have, while at the same time trying to be there for our customers in the way that we would want to be – even though there were twice as many of them as before.
When the first lockdown ended in July, we heaved a sigh of relief. Orders continued at a higher level than usual, but summer is one of the quieter periods of the year for us, so this was liveable with. We even managed to get away for a week's holiday at one point.
In August we had a press request for an image of the Carina Mini-spade, for an article due to appear in the November Country Living magazine. We have noticed with press coverage that most of the time it doesn't lead to much interest, so we don't get our hopes up when such requests come to us. 2020, again, was different. This was the first of three published articles to generate a great deal of interest. But more of that later.
Because there was another problem on the horizon. The tools are manufactured in the EU, and there was a great deal of uncertainty about what was going to happen when Britain left the EU at the end of the year. In October we decided to order a Brexit stash of tools, to see us through the transition. There are just six coppersmiths, who were already dealing with an increase in demand, so it took a month for them to make the extra tools for us.
In October we started receiving a lot of orders for Carina Mini-Spades – and we remembered that press request from Country Living Magazine.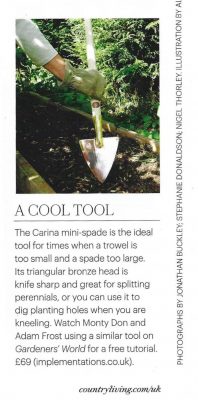 In November the large order was due to arrive from Austria. The week it arrived we had another press request, from the Financial Times for an image of the Castor Trowel.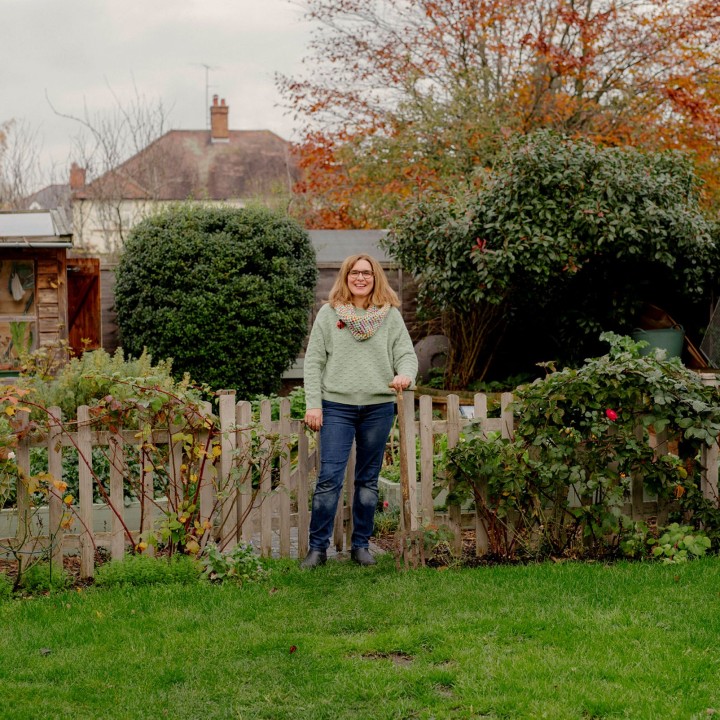 Gardening writer Jane Perrone wrote a beautiful piece in that weekend's FT magazine with the title 'Gardening in Lockdown: it's about planting hope' (behind paywall). Towards the end of the article she names 'Five pieces of gardening kit every newcomer should have'.
Here is what she said about the Castor Trowel.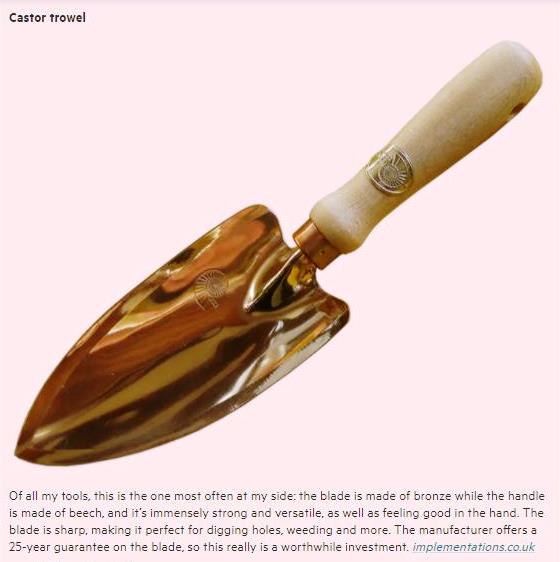 As soon as our Brexit order arrived, we had to raid it to cope with the increase in interest in Castor Trowels.
We started to hear that the tools were getting recommendations in blogs and in other publications, but by then we were already too busy to check them out. November and December are usually our busiest time of the year, so we were bracing ourselves. By mid-December we had ordered so many Castor Trowels from Austria that they had run out of them too.
The final press request we had came from the Guardian. Allan Jenkins, the editor of Observer Food Monthly, has championed the tools for a long time. In an article entitled 'Christmas wishes for gardeners', published on 20th December, he said
"If someone loves you a lot, then perhaps drop a heavy hint about Implementations tools. They are the best in Britain, to my taste. Beautifully crafted blades from bronze and copper. We have acquired a few over the years, from the versatile two-pronged handheld Phoenix hoe, my go-to tool, and various trowels to a large rake and a spade. I often tell myself I am saving up for the full-size fork."
By the time we closed for Christmas we were exhausted, but 2020 wasn't done with us yet. Imports were getting held up at the border, including consignments of the tools. Finally, in the first weeks of 2021 they started coming through again. We sent the last of the December orders on its way to its new home on 14th January 2021. The backlog was cleared at last.
2020 was a learning experience for us. We found out where our limits were, and where the stress points were. We had to prioritise. This is the first blog posting for five months for example, because they are lower priority.
Most of all, I am so, so glad that more people than ever before now know about bronze garden tools. They are no longer a strange idea. Maybe the tools have moved into the mainstream.