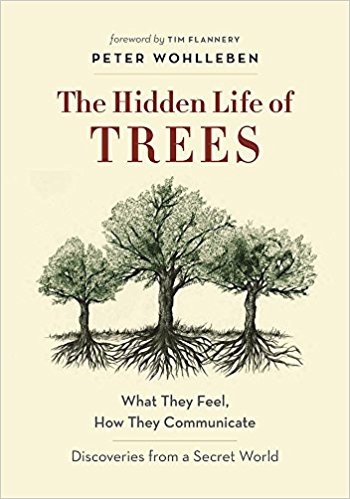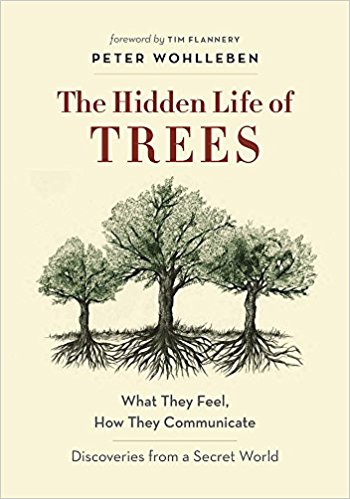 This book is enchanting and subversive. It is a sociology of trees. The author takes it for granted that the trees have feelings. He shows how they express pain or thirst. He shows how they communicate and care for each other, and look after their young. He also shows how they learn from experience.
The book is subversive because it shows how the trees form a sentient, coherent community, just as humans or a herd of elephants would do. Without specifically naming it, the author asks us to have respect for this community.
However, there are clear differences between a forest and a herd of elephants. Obviously, the trees are rooted to the ground. Their movement is by species, at the rate of a mile or so a year. This means the trees develop different strategies from animals when protecting the rising generation from predators. He tells how the beech and oak trees agree among each other when to produce the next generation – about once every five years. These years are known as mast years (after the beech fruit, the mast). The animals that feed on the masts and acorns can't rely on a regular supply each year. In the glut of a mast year, some of the young trees get through.
The main difference from us humans is speed. Trees do everything more slowly than us. The author quotes a researcher who measured the speed of electrical transmission through a tree – about an inch in three minutes. That means a foot or so in an hour. It means the crown is in a different timezone from the roots. They plan next year's buds now, a year in advance. We have difficulty enough registering an elephant's vocalisations, which are outside our range of hearing. A tree's will be much slower than that, requiring even greater effort on our part.
A final satisfaction in this book is that the author is poacher turned gamekeeper. He trained as a forester, which meant seeing trees as commodities: lumber to be felled. He takes us through the transition he has made from exploiting the trees to working with them. He acknowledges and regrets his past ignorance (and the pain and damage he unwittingly caused) as he uncovers the complicated networks and clever strategies the trees use. He shows us that they are much better at managing their ecosystem for optimum conditions than any forester. He learns from them, and shows us his notes.
I loved this book. Highly recommended.